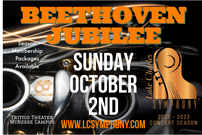 Sunday, October 2, 2022
Tritico Theater - 4:00 pm
Tickets:  General Admission: (per person)
(Adult: $65      Student: ID Required  $40)
Lake Charles Symphony Orchestra opens our 65th season with the music of Beethoven's Symphony No. 5, one of the true symphonic masterpieces. Join us for this fantastic afternoon of German music with YOUR Lake Charles Symphony Orchestra led by conductor Chelsea Tipton, II. Opening our concert will be the dramatic overture by Mozart from the opera Don Giovanni. We will feature on viola our concertmaster, Sarah Perkins, in Hummel's charming Potpourri for viola and orchestra.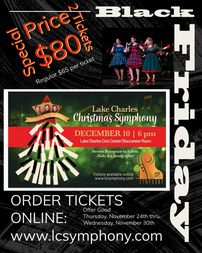 Saturday, December 10, 2022 - 6:30 pm
Lake Charles Civic Center, Buccaneer Room
Experience Christmas music like never before. The Lake Charles Symphony will take you high into the heavens with angels and down into the frosty snow. There will be a grand finale as Santa flies in early to take family pictures after the concert and some other holiday surprises. Create a magical holiday tradition for the entire family.
Tuesday, February 14, 2023
Historic Cash & Carry 6:00 pm
Join us for a romantic evening of instrumental jazz music with the Lake Charles Symphony Orchestra Jazz Quintet.  Enjoy a lovely dinner with this candlelight celebration perfect for your sweetheart or a group of friends to celebrate love and music. 
Lake Charles Symphony Orchestra and the Buccaneers
Sunday, March 19, 2023
Central School of Arts & Humanities Center  6:30 pm
Tickets:  General Admission (per person)
(Adult: $50        Student: ID Required  $25)
The LCSO Brass Quintet musical will share some chamber music with a Celtic twist. The A.M. Barbe "Buccaneer" Orchestra will take the stage to perform a mix of classical and popular music under the direction of Christopher Gunter. Join the Lake Charles Symphony Brass Quintet as we celebrate the reopening of Central School, celebrate these talented youth, and some music to get you in the St. Patrick's day spirit.

Sunday, April 16, 2023
Tritico Theater  4:00 pm
Tickets:  General Admission (per person)
(Adult: $65        Student: ID Required  $40)
Opening our finale concert will be the vivacious Ruslan und Ludmilla Overture by Glinka.   We will feature as soloist our principal trumpet Dave Scott from the LCSO on the Haydn Trumpet Concerto and will close out the season with the cheery and lyrical Dvorak Symphony No. 8 that was inspired by Bohemian folk music.  You will not want to miss this grand finale.
SEASON MEMBERSHIP PACKAGES
- One ticket to all Symphony Classical  Concerts
- One ticket to the Valentine Concert
- Listed in the Classical Season Program as a Bronze Patron
- Two tickets to all Symphony Classical Concerts
- Two tickets to the Valentine Concert
- Listed in the Classical Season Program as a Silver Patron
- Four tickets to all Symphony Classical  Concerts
- Two tickets to the Valentine Concert
- Listed in the Classical Season Program as a Gold Patron
Platinum Season Patron:             $1,000
- Four tickets to all Symphony Classical  Concerts
- Four tickets to the Valentine Concert
- Listed in the Classical Season Program as a Platinum Patron
- Six tickets to all Symphony Classical  Concerts
- Six tickets to the Valentine Concert
- Listed in the Classical Season Program as a Symphony Society Member