BAYOU A CHANCE TO WIN THIS           GATOR ON THE GEAUX!
Click the Pic!!! And There You GEAUX!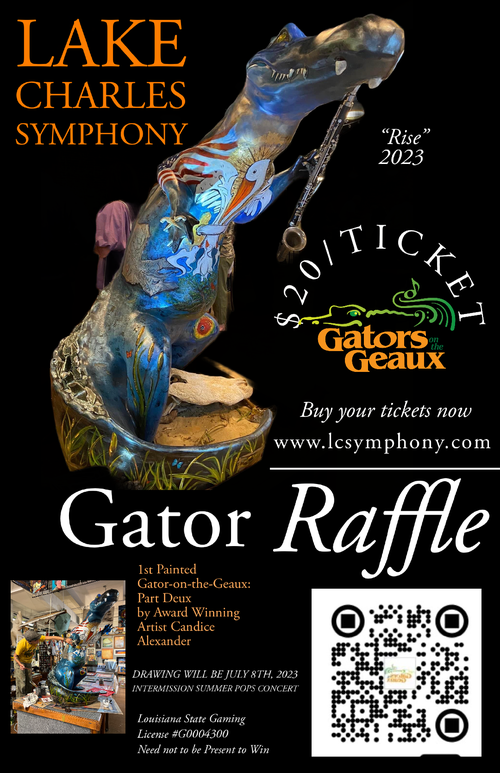 THANK YOU FIRST FEDERAL BANK OF LOUISIANA!!!
First Federal Bank of Louisiana has committed to a $15,000 sponsorship and will be the Presenting Sponsor for the Lake Charles Symphony's 2023 Summer Pops event.
From left, Lake Charles Symphony Conductor Chelsea Tipton II, First Federal Bank President and CEO Sam Wilkinson, LCSO Executive Director Beth Dawdy, and Past Symphony President Mike Beer
Upcoming Performance:
  2023 Summer Pops
Louisiana Saturday Night
Saturday July 8, 2023
Lake Charles Civic Center
Doors Open at 6:00
Tickets:  General Admission
Riser Seats ($45 per person)
12 & Under ($25 per child)
 This year the Lake Charles Symphony is especially excited to present Louisiana Saturday Night celebrating all things Louisiana. Lake Charles native and   Grammy Nominated, Sean Ardoin and Kreole Rock & Soul is the feature artist for the 2023 Summer Pops Series. The Lake Charles Symphony has commissioned Orchestrated Music to accompany Sean's Zydecajun Music. This will be the first time that he will perform with a full orchestra. This year's event will be Saturday, July 8th at the Lake Charles Civic Center. Summer Pops marries classical music with contemporary artists to present a unique musical event for all ages.
Gators on the Geaux...
Support Your Symphony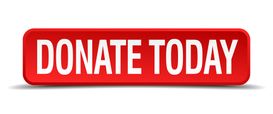 The Lake Charles Symphony is turning to a virtual fundraiser to sustain our programs while ensuring that our communities, donors and volunteers stay safe.
Please consider making a donation to sustain the Lake Charles Symphony or become a Season Member today!!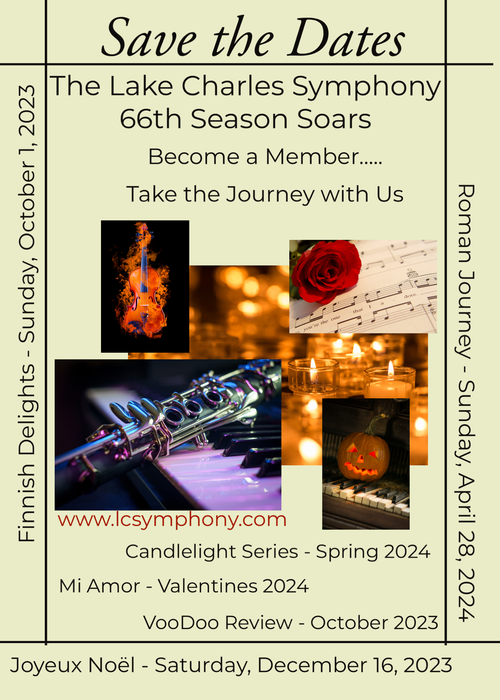 Music connects us all. The Lake Charles Symphony is a cornerstone of Southwest Louisiana's heritage and culture. Your Symphony is social, thrilling and inspiring, and—above all—it permeates everything around us. Music is a truly communal experience that stops time while transporting you back in time to witness the great musical masters at work.
Plans are in the works for the 2023-2024 season! 
Stay tuned for more information soon.
Like us on Facebook and stay up-to-date with the latest news on concerts & events.