Win a Gator!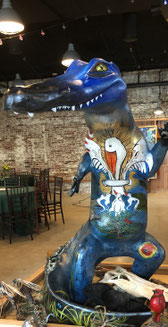 Want to win your very own one of a kind Gator painted by the well-know and talented artist, Candice Alexander?
Enter our raffle to win the first painted Gator of 2023. Award Winning Local artist Candice Alexander was commissioned to paint this gator.  This Gator is the first piece painted in her Hurricane Laura 4th Series, "Rise". This Gator is a representation of SWLA's culture and history. 

This original art piece, also contains glass from the CM Tower and Pistol Bridge Casts. It is on display at the Historic 1911 City Hall Museum for all to view. 
CLICK THE PIC!!    Ready. Set. GEAUX!!!